Just an hour and a half from London sits a mock medieval hamlet that looks like an advert for the British tourism board. Set in the Sussex countryside, with the sea within walking distance and surrounded by a patchwork of green and yellow rape fields, it's the sort of place all Americans think England looks like.
Based on 30 acres of perfectly manicured lawns, Bailiffscourt's history goes back to the 13th century – at least, its tiny chapel does. The mansion house itself was created for Lord Moyne's wife , Evelynn Phillips, by the antiquarian and architect, Amyas Phillips in the 1930s. Lady Moyne had a penchant for medieval buildings, so decided to build an ambitious house in period style using original medieval stone, woodwork, windows and fireplaces which is why the property looks so authentic.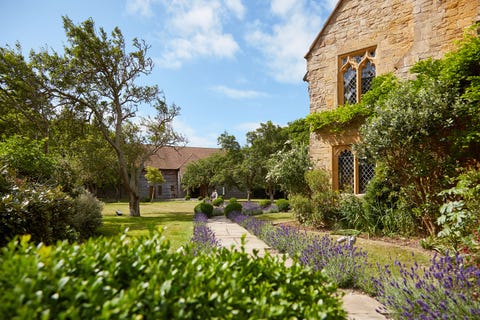 Once the couple had completed their project, it was used to house glamorous parties and social occasions – you can only imagine the vast amounts of champagne consumed during long nights of dancing at Bailiffscourt. It was turned into a hotel in 1948 when it became a favourite among socialites and the Hollywood set – indeed, rumour has it that Elizabeth Taylor had a jewellery safe built into the floors of her favourite room here.
Understandably given its old -fashioned luxury charm, it's become a popular haunt among travellers seeking for a tranquil retreat near London. Its spa alone, housed in a restored barn, has received numerous design awards. But Bailiffscourt refuses to rest on its laurels and has recently teamed up with jewellery brand Missoma on a package promising to spring clean your Chakras - the centres in our bodies in which energy flows through. According to ancient Buddhist and Hindu tradition, blocked chakras can lead to illness and/or can hold you back from happiness or fulfilment.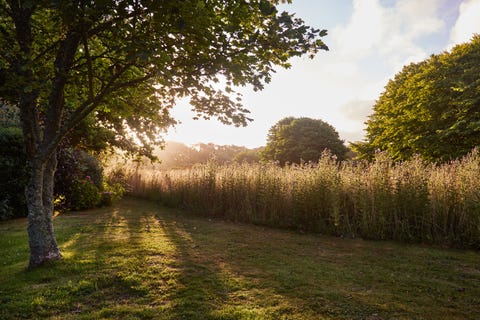 Bailiffcourt's new package aims to make you feel calmer, healthier and more centred. So, did it deliver?
Accommodation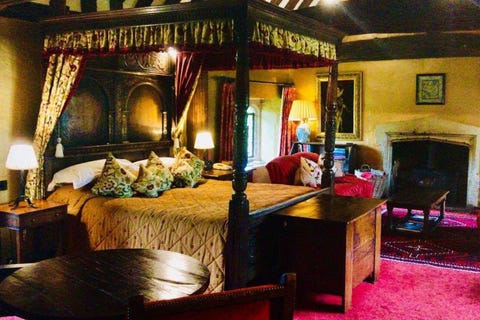 We arrived in our room to find a Missoma chakra healing kit with a personalised pendant necklace and different stones thought to have different spiritual powers. The idea is that you keep them with you in times of need. If you want to feel truly indulged book the lavish Baylies suite – which is reportedly where Kristen Stewart and Robert Pattinson stayed for his birthday while she was filming Snow White and the Huntsman in the neighbouring town of Arundel. They chose well - the room comes with a roaring fire (if you don't know how to light it, the staff will be more than happy to do so for you), a huge four poster bed, sofas that you'll sink into and a large television. While sleeping like Henry VIII in a four-poster bed feels pretty unforgettable, its bathroom is also worth mentioning with two roll tubs positioned next to each other ideal for romantic getaways or a girls break.
What to do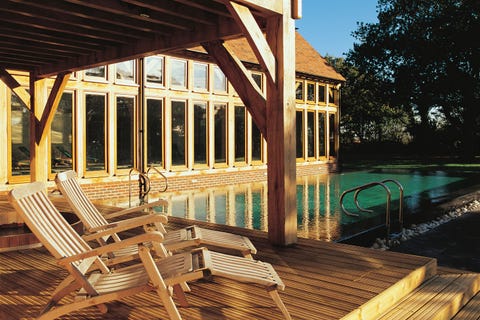 The package includes a spa treatment and free use of its award-winning spa facilities. There's also the option to partake in a yoga session, but these are only available on Tuesdays and Fridays. A lot of hotels include spas, but few are as beautiful as Bailiffcourt's. Positioned in a converted barn, the original beams are left on show with floor-to-ceiling windows that make you feel as if you're outside. Inside, there are various treatment rooms (we recommend the massage), a relaxation room with a terrace overlooking the grounds with a tea, a Jacuzzi and a large swimming pool. If it's warm enough to be outside, there's an additional infinity pool surrounded by sun loungers. A hot tub offers warmth for those who don't feel brave enough to embrace the cool British air.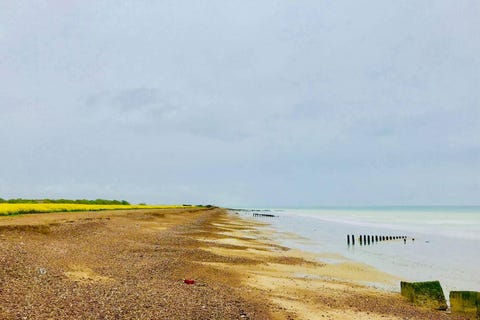 Just beyond the spa, there is a tree-lined pathway that leads to Climping beach. Inhale the sea air and follow the untouched coastline along to the sleepy village of Elmer, then stroll back with a cup of tea in hand. Even bad weather doesn't stop this from being an atmospheric, calming way to spend a few hours. If you'd rather stay inside the grounds of the hotel, there's also a tennis court and an adult-sized swing suspended from a huge acorn tree. Decide not to use it at your own peril.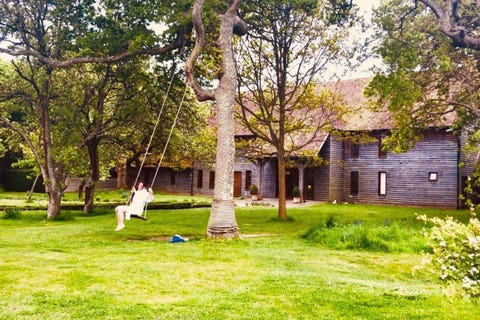 The picturesque town of Arundel is also well worth visiting, particularly if you like antique shopping – Spencer Swaffer Antiques was our favourite. On your way back stop off at Houghton's George & Dragon, one of the oldest pubs in Sussex, for a quick pint or glass of wine.
Food and drink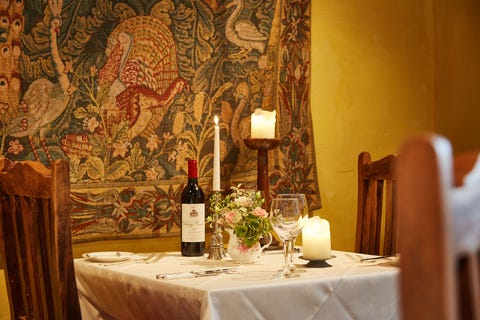 The Chakra package also includes a three-course meal at its restaurant, which – unlike many hotels – was full on a Friday night with a mix of couples, friends and families. The meny focuses on local produce, so it makes sense to try the fish (the scallops with peanut butter and asparagus were perfect, as were the shellfish) which comes fresh from nearby Brighton and Littlehampton. We'd also recommend the steak, which was served juicy and flavoursome. You might not be able to eat it all, but you'll certainly regret leaving any afterwards.
Wow factor
One night at Bailiffscourt with the Missoma Chakra package offers such a sense of tranquillity that you'll feel as if you've been away for three. Truly a haven that perfectly mixes nature, luxury and opulence with warm hospitality.