If anyone is well placed to launch a brand based around desirable travel essentials it's former fashion editor Charlotte Lewis. Having started her career as a fashion assistant, first at Elle, then at Glamour where she went onto become the magazine's shopping editor, she's spent a lot of time in airport terminals and on flights.
It was while sat on one of the aforementioned flights "probably cold and uncomfortable" that she came up with the idea for her unisex brand, Ven, which focuses on cashmere travel must-haves, from eye masks and ribbed socks to blankets and pillow covers designed to fit standard airline pillows.
"Despite my hand-luggage bag being in constant use, I never became a great packer and I never felt chic or pulled together," says Lewis. "I actually once broke the straps off a massive leather bag from packing too much, basically taking a full-size duvet with me on trips, which is neither practical nor chic. I had searched for a cashmere travel set - something to make packing easier - but could not find one that was in my price range or that was elegant while being practical."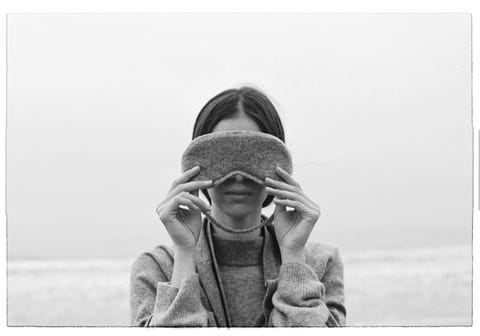 The thinking behind Ven, which translates as 'come' in Spanish, is simple, but solves a travel quandary that a lot of women will identify with – how to fly in style and with comfort. Why on flights do we settle for items, be it the too-small itchy blanket or the nylon eye-mask, that we would never use ordinarily? Ven seeks to rectify this issue.
"I found most people struggled with what to wear and what to take on the plane," says Lewis. "I had done so many advice pages and articles about what to pack and yet still couldn't find the right things. I didn't want to make anything trend-led; just classic pieces you could go back to again and again."
Launching with two cashmere travel kits that include a blanket, socks, a pillow case and an eye mask, the label will introduce track pants and hoodies at the end of the summer. They're the sort of items you can imagine Joan Didion carrying in her hand luggage next to a Norman Mailer book; understated, chic pieces that are ageless and actually really useful.
"I want the sets to work for anyone no matter age or sex," explains Lewis. "I wanted to make a product that would work for anyone. My 81-year-old grandmother has one of the kits and she loves it."
In a world where holidays are heavily documented on social media, Lewis wants to explore an underserved aspect of trips abroad – the journey. You only need to look at the success of design-led, affordable luggage brand Away, which made $12 million in sales during its first year alone and recently collaborated with Karlie Kloss, to see the demand for travelling in functional style.
"People are travelling more than ever; maybe it's not so much about having the latest It bag anymore but rather going to that destination or staying at that hotel," says Lewis. "There are more resortwear brands than ever now. Holidaying is big business, but getting there receives less Instagram airtime. I hope there is room for a brand that caters for the less photogenic side of going on holiday."
Cashmere was important to Lewis for two reasons – it's practical for flying in terms of being both light and warm, and it also serves as a small, discreet slice of luxury. Ven travel kits retail at £295, which – while not cheap – are still far more inexpensive than a luxurious first-class flight.
"I wanted to make products that were available and useful no matter the season," she says. "This isn't just for those in first class. It is about making every journey feel that little bit more luxurious."