How do you sum up Africa's food culture? Many across the world may only be familiar with a handful of its most famous dishes, but it is impossible to encapsulate the vast and varied cuisines of the continent in just a few meals. The GTBank Food and Drink Fair, as the region's leading food festival, comes to the cosmopolitan Nigerian city of Lagos each year to celebrate and showcase the diversity of Africa's unique culinary offering.
The fair brings together global talent and local expertise, offering captivating masterclasses from internationally renowned chefs (many of whom put African food on the world stage) as well as supporting small retail and produce businesses involved in the industry. London chef and Vogue contributing editor Lorraine Pascale stole the show at this year's three-day event as she gave guests a unique insight into her fashion-turned-foodie career, demonstrating the secret to making the perfect dessert.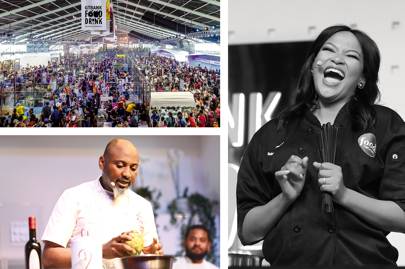 Pascale was joined in the line-up for 2018 – which proved to be the biggest and most successful year yet for the fair – by fellow culinary experts Raphael Duntoye, the chef patron of La Petite Maison; Food Network star Sunny Anderson; Siba Mtongana, best-selling author and star of Siba's Table; and multiple award-winning mixologist Tony Conigliaro.
The organisers of the GTBank Food and Drink Fair carefully curate a wide variety of exhibitors to serve up the most tantalising array of gastronomic delights for attendees. From international cuisines to local specialities, street food stalls to alternative cocktails and eclectic confectionery, the result is Africa's largest food experience and a dynamic destination for food tourism. In addition to the masterclasses and talks, enlightening (and mouth-watering) culinary experiences are on offer, such as food and wine tastings, alfresco cooking and pop-up restaurants.
Started in 2016 by multinational financial institution Guaranty Trust Bank as part of its efforts to promote enterprise, the festival aims to unite the big names, industry experts and local exhibitors to give an all-encompassing perspective on the richness and originality of African food. However, it isn't only about raising awareness. The event – free for all to attend and welcoming more than 250,000 visitors this year – provides high patronage and a successful sales platform for the smaller businesses (almost all of them set records in sales and interactions during the fair). Put simply, it connects producers and sellers with an engaged (and satisfied) audience of foodie enthusiasts, as well as providing the local food industry with a free public profile to gain global recognition.
While the flavours and dishes of African cuisines are enjoyed all over the world, the GTBank Food and Drink Fair is on a mission to garner the international attention that the diversity and deliciousness of the continent's culinary culture deserves.